Stacey joined the staff at Country Care Veterinary Center in with winter of 2015.  Stacey grew up in the same town as Dr. Tim, worked in high school at the same veterinary clinic as Dr. Tim and incidentally graduated from tech school at the same time as he did also.  So it was pretty much fate that she joined our team.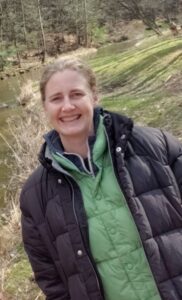 SUNY Delhi – AAS Veterinary Technology – Class of 1999
Why did you become a veterinary technician?
"I grew up on a dairy farm and worked quite a bite with horses.  When I was 13, I was hanging out with my boyfriend at a dairy farm he worked at, Dr. West came and helped him dehorn some calves.  He asked if I would be interested in helping out at his veterinary clinic.  I said yet.  He 100% opened the door to where I am today."
What is your favorite part of working at Country Care Veterinary Center?
"I adore my work family.  I know most of my patients and clients and we are all growing up together.  There are not a lot of small clinics like us left anymore.  I am happy to leave the super advanced medicine to the big dawgs.  I am grateful to work at a place that provides the best care we can offer and can offer referral to those interested in pursuing treatments we do not.  At my clinic, we care for each other, for our patients, and for their humans.  Not every day is a good day, but I am surrounded by great and amazing pets and people."
What is your favorite animal?
"Pretty much anything with fur. Dogs, cats, most critters.  Cows are my ultimate favorite.  Birds, not so much…  But I try to like 'em all"
What do you do when you are not working?
"I am fascinated by my son, who is currently a zookeeper/wildlife educator and caring for all the weird creatures I would not let him have when he was little. It is a joy to watch him learn and grow in all aspects, but I am proud that animals are his true calling too.  I make porcupine quill earrings from quills the dogs bring me.  I have an amazing circle of friends, we enjoy bluegrass music, being outside and living by our roots.  I enjoy hiking, camping, cutting firewood, weed wacking, making maple syrup and recently: building the only known dutch-door outhouse in America!"