Katie joined Country Care Veterinary Center in September 2020 during the Covid-19 pandemic.  Katie is a 2019 graduate of SUNY Delhi's Veterinary Technology program.  
We first met Katie when she did her preceptorship with us in 2018.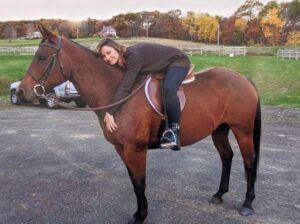 Why did you want to become an LVT?
"I wanted to become and LVT after a medical emergency with my own horse.  I was so impressed by how well the veterinarian and LVT were able to tend to a bad injury.  The LVT was so skilled, poised and nurturing during a scary situation.  That was the moment I knew I wanted to pursue this career.  The next day I applied to the Vet Tech Program at SUNY Delhi and the rest is history!"
What is your favorite part of working at Country Care Vets?
"I love so much about being an LVT and working at CCVC.  My favorite thing though would have to be the comradery we have and the support we all give each other on a daily basis. "
What is your favorite animal?
"My favorite animals have always been cats and kittens!  I have two black cats at home that are equal parts wild and sweet!"
What do you do when you're not helping animals at Country Care Vets?
"Outside of work and animals I really enjoy the world of arts and entertainment.  Listening to and playing music has been a big part of my life for a long time.  I have a Bachelor of Arts in Music degree from before I went to tech school.  I also love films, television and musical theater. "