Erin joined the staff at Country Care Veterinary Center in June 2013, just before we opened the new clinic.  Erin had performed her veterinary technician preceptorship with Dr. Tim, Dr. Val and Susan in 2012.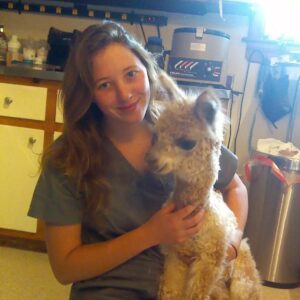 Alfred State – Class of 2013
Why did you want to become a LVT?
"I always wanted to work with animals and to be able to help those who can't help themselves.  Becoming an LVT lets me accomplish that."
What is your favorite part of working at Country Care Veterinary Center?
"At CCVC we are able to treat each patient individually with care, compassion and a personalized treatment plan that is best suited to the animal and their family.  I love that we are a close knit and caring group which makes coming to work a pleasure."
What is your favorite animal?
"It is too hard to just pick one, they all are so fun and amazing in their own ways.  Dogs and cats are of course at the top of the list, but I would have to add goats to the top as well for their crazy/lovable antics. "
What do you do when you aren't working?
Kayaking, Reading, Hiking and Gardening