Casey is another local kid who grew up in Afton. We had the pleasure of corrup— I mean working with Casey as a high schooler who volunteered with us to gain veterinary experience for school.  We enjoyed working with her so much we encouraged her to come back to us after graduating from SUNY-Delhi in 2021. 
Casey is like a sponge, always learning and working hard to make sure she is the best she can be.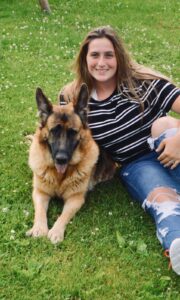 SUNY Delhi – AAS Veterinary Technology – Class of 2021
Why did you want to become a veterinary technician?
"I have always had a passion for helping animals"
What is your favorite part of working at Country Care Veterinary Center?
"My favorite part of working at CCVC is being able to help animals and being part of a great team."
What is your favorite animal?
"Dogs because they have such great loyalty and my dogs are always happy to see me."
What do you do when you're not at work?
"When not working, I like riding UTVs, Riding horses, line dancing, kayaking and paddle boarding."